HL7® is THE Authority on HL7 Standards and the Home of the Next-Generation Standard FHIR!
Health Level Seven International®, or HL7, is a member-driven nonprofit organization dedicated to creating and maintaining standards that bridge the gap in healthcare technology. Our goal is to improve the accessibility, speed, safety, security, quality and cost of the electronic heath information exchange.
As the world's leading health IT standards development organization, we work collaboratively to develop and maintain standards that help healthcare organizations improve patient care, by streamlining processes, lowering development costs and facilitating informed decisions by care providers.
Our best-in-class frameworks and standards make:
Caring for patients safer

Clinical research more effective

Writing software more intuitive

Paying for healthcare less costly
We invite you to learn more about the important work of HL7 International, including our extensive collection of FREE resources, exclusive member benefits and HL7 certification program!
Sign Up for News & Updates!
HL7 International Offerings:

Training & Education
HL7 offers cutting-edge programs that give you the opportunity to learn straight from the source.
Learn More
Our training is led by subject-matter experts who have hands-on experience in the development and implementation of HL7 standards. Flexible learning formats include a wide selection of live and on-demand online classes and webinars, self-paced courses, HL7 certification practice exams, and customized on-site or virtual corporate training.
Standards Creation & Maintenance
HL7 International sets the standards to achieve interoperability in healthcare.
Learn More
Imagine a world in which everyone can securely access and use the right health data when and where they need it. By providing a framework that supports the successful exchange of electronic health information, HL7 International literally sets the standards to achieve interoperability in healthcare.

HL7 Standards
HL7 Standards are developed with a focus on seamless implementation, achievable maintenance and long-term sustainability.
Learn More
When data is successfully packaged and communicated across parties, the electronic health information exchange becomes easier and more efficient. The end result – better patient care and a better bottom line for healthcare organizations.

HL7 Certification
Certified professionals demonstrate a comprehensive understanding of the framework and standards of health information technology.
Learn More
HL7 certification is an in-demand skill that employers value, and it can significantly increase your career opportunities.
We offer industry-recognized certification and proficiency exams for four HL7 standards, including FHIR (Fast Healthcare Interoperability Resources). Certification exams can take place in an online proctored setting or at one of our worldwide authorized testing centers. HL7 International members receive significant savings on certification exam fees.

HL7 Membership
There's never been a better time to become an HL7 International member.
Learn More
Join HL7 today so you can:
Vote on standards that influence the technical and policy environment of healthcare

Manage implementation costs and time to market

Learn best practices from standards authors, thought leaders and industry experts

Receive exclusive discounts on education, corporate training and HL7 certification and free members-only webinars

Connect and network with top industry leaders and stakeholders
When you become an HL7 International member, you belong to a global community of the most influential and dedicated healthcare industry players with the potential to transform healthcare technology systems everywhere.

Upcoming Events
HL7 International fosters a collaborative community that is committed to improving the health of people around the world through integrated technology.
Learn More
Our events include think tanks, networking groups and implementation support for standards across the healthcare continuum. Members receive significant discounts on event registration fees. Please check our calendar to register for upcoming events.
Join the Movement
Members Who Care
HL7 members are recognized leaders in the healthcare industry. They participate in the evaluation and development of HL7 Standards and have critical influence on the technical framework and policies that affect healthcare every day. They care deeply about the security, accessibility and compatibility of healthcare data and the impact this has on patient care.
HL7 is supported by more than 1,600 members from over 50 countries, including more than 500 corporate members representing healthcare providers, government stakeholders, payers, pharmaceutical companies and consulting firms.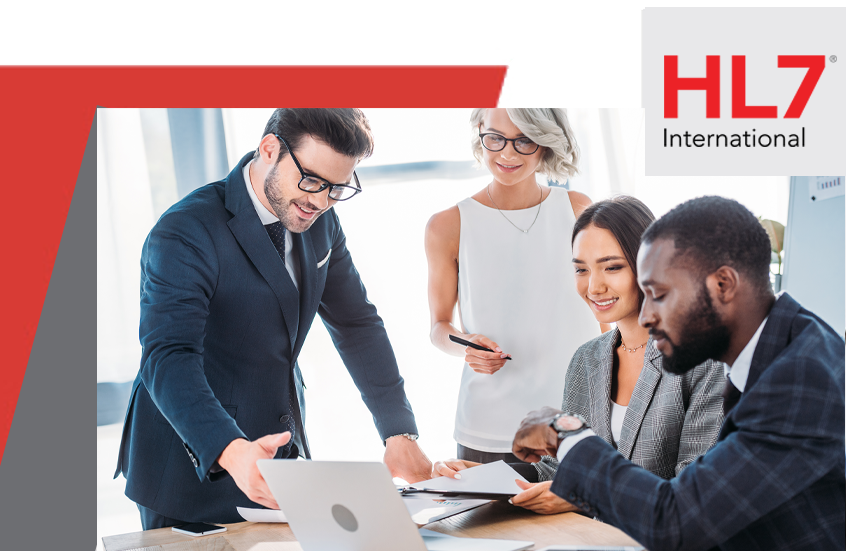 "HL7 sucked me in. I began to understand how HL7 worked and how powerful an organization it is. It has so much impact." Lisa R. Nelson, MS, MBA VP Business Development and Marketing, Principal Informaticist, MaxMD, Fort Lee, NJ
"The main reason to be a member is to impact the standards or make sure they are maintained, because you think that's what's right for humanity. Another reason is you want to influence what happens in this space." Diego Kaminker, HL7 Fellow, Owner/Manager in Kern-IT SRL, Buenos Aires, Argentina
"The more the standards are integrated into the medical records (or EHR) the smarter the healthcare organizations and patients become. The FHIR Argonaut project, getting patient records on to patients' Apple iPhones, is a big implementation success." Grahame Grieve, Principal at Health Intersections Pty Ltd, Melbourne, Australia